Repairs and Parts for All Major Restaurant Equipment Brands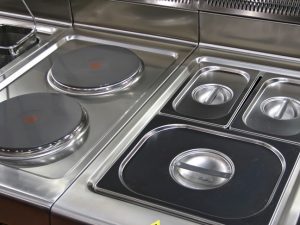 Refrigeration systems are one of the more pricey pieces of commercial cooking equipment but are a necessity for any restaurateur. Ranging from $2,000 to upwards of $10,000, commercial refrigerators are an expensive commodity and staple in any restaurant business. We do our best to ensure that your hard-earned dollars don't go towards replacing a unit. And our services, such as restaurant equipment repair and professional range repair, have all your bases covered. When it relates to commercial cooking equipment repair or industrial products, we are fully prepared to come to your aid.
Every consumer receives the same level of attention and care when they choose us as their go-to company for dealing with equipment issues. We find it rewarding to give peace of mind to those business owners who have depended on our skill set to help their businesses thrive.
We repair all types of industrial cooking equipment, including:
Heat Lamps
Gas Stoves
Grills 8-foot
Gas and Electric Grills
Ice Machines
Waffle Makers
Toasters
Coffee Makers
Tea Machines
Coolers
Freezers
Prep-Tables
Frozen Drink Machines
Steamers
Fryers
Call to find out how we can serve you!