Kansas Controls Heating & Cooling provides complete HVAC solutions for you—the facility owner, manager, or operator—to include preventative maintenance, budget analysis, energy and comfort-improving retrofits, 24/7 emergency repair services, equipment replacement, design/build installations, indoor air quality diagnosis, and much more.
We know what questions to ask to get to the root of your facility concerns, and we pride ourselves on being exceptional problem solvers and solution providers.
Preventive Maintenance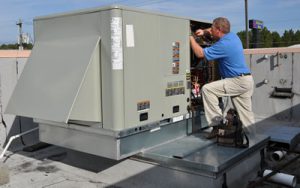 When Kansas Controls maintains your heating, ventilation and air conditioning systems, you get a dividend…in occupant comfort, in increased productivity, and in the profitable operation of your building. We offer you a choice of maintenance programs, all designed to optimize the performance of your mechanical systems. Our customized professional maintenance program will…
Save you money by minimizing downtime and extending the equipment life span. The result will be improved energy efficiency, reduced utility bills, longer equipment service life (and postponed capital replacement costs), and our exclusive "guaranteed contract" benefit of discount labor and material rates.
Assure facility comfort resulting in happier, more productive workers, employees and tenants.
Provide peace of mind knowing that your HVAC systems are being serviced by a team of reliable professionals who understand your facility needs and who will be there for you when it matters most.
HVAC EQUIPMENT REPLACEMENT/INSTALLATION

Most facility managers want timely turnkey solutions when it comes to equipment replacement or new HVAC installations. We provide it—mechanical/electrical/structural engineering and permits, equipment rigging, power wiring, gas piping, duct work, temperature control systems, equipment start up and commissioning, and follow-up preventive maintenance services.
Our years of experience and attention to detail will ensure a hassle free, top quality installation with your budget in mind. Call us today at (316) 267-5222
KANSAS CONTROLS HEATING and COOLING—Service you will appreciate, advice you can trust, expert maintenance/repair/installations you can depend on—all at a price you will smile about! We are looking forward to serving you!
Financing your equipment with Kansas Controls can keep you competitive in today's economy. It just makes good financial sense. Financing thru Ingersoll Rand Financial Services