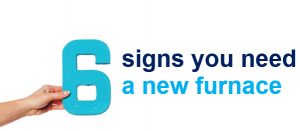 Wichita Furnace Installation and Heating System Replacement Specialists Talk About When It's Time to Consider a New Furnace.
Knowing when to replace your furnace is a tough decision, but our Wichita furnace replacement installers make it easy. When looking furnace replacement services, here's 6 things to consider.
1. How Old Is Your Furnace?
Today's furnaces are designed to last between 15-20 years and as your furnace ages it begins to operate less efficiently.
Parts start to wear out, fail, and maintenance vs. furnace replacement costs come into play.     As a good rule of thumb, if your furnace is over 15 years old, it's time to consider furnace replacement.
Determining the age of your furnace is the first step in deciding whether to replace or repair a heating system. If you're not sure, you can check the owners manual, call the manufacturer with the model number, or ask one of our Wichita HVAC technicians to take a look.  Another trick is to check to see if your furnace has a pilot light. If it does not, it is almost certainly over 25 years old. In this case, a new furnace installation is your best bet.
2. Frequent Furnace Repairs
A telling sign it's time for a furnace replacement is if your heating system needs frequent repairs. Occasional wear and tear is normal. However, if it becomes a regular occurrence for your repairman to show up to fix something, it's a bad sign. If your furnace repair costs are 50% or more of the unit's current value, our Wichita furnace installation technicians recommend a furnace replacement.
3. Uneven Heating
If your home is being heated unevenly, it could be a sign of a waning unit. Having your bedroom hotter than your living room isn't good and doesn't make sense. The problem could be your furnace is no longer able to evenly distribute heat. Kansas Controls Heating & Cooling's Wichita heating service technicians usually suggest upgrading your furnace if you are experiencing uneven heating. As always though, our HVAC technicians will take the most cost effective route for you, whether that's furnace repair services, furnace maintenance services, or a new furnace installation for your home or business.
4. More Frequent Cycles
Overly frequent cycles from your furnace may suggest it's working harder than necessary. It's possible this common furnace problem can be solved quickly and affordably!
If this is the case, contact our Wichita furnace installation technicians for a heating service appointment.
5. Strange Noises
A low rumble when your furnace kicks on is normal. Popping, squealing and banging are not. An older model tends to make unusual sounds towards the end of its life.
6. Rising Energy Costs
Increased heating bills in the winter aren't necessarily just because it's gotten cold. It could be an indicator of an inefficient furnace, usually running below 65% efficiency. If it's an older model, there may only be so much heating system maintenance which can be done to resolve the problem. Our local HVAC technicians can help you determine whether a furnace repair or replacement is the best option for you. When a heating system replacement is the most reliable and cost-effective option for you, turn to our Wichita energy efficient furnace installers and lower your heating bills today!
If most or all of these furnace replacement signs sound like your home, the next step is to contact our furnace replacement specialists to discuss options including types of furnaces, furnace replacement costs, HVAC financing, specials offers, and more.
Contact our Wichita furnace replacement installers today to request a heating service appointment and we'll respond shortly!
Wichita Furnace Installers You Can Trust
When you  hire Kansas Controls Heating & Cooling, you can always trust you'll be getting the most honest advice about your heating system replacement decisions.  Often times your furnace issues can be solved with diligent furnace maintenance service or furnace services Wichita, KS  No matter what type of local HVAC services you need, our heating system technicians provide the highest quality work all backed by our 100% satisfaction guarantee. From furnace installation and maintenance to furnace repair and replacement, turn to the best and most affordable heating service in Wichita, KS and throughout Surrounding Areas: Kansas Controls Heating & Cooling.